One of our favorite things here at Meyer Family Dentistry is welcoming new patients into our smile family. We absolutely love getting to know our community members and can't say enough how much we appreciate that they trust us with something as important and special as their smiles.
That's why we go out of our way to make sure your first appointment as an individual or as a family is not only warm and welcoming but also convenient and stress-free as well. We get you scheduled within a week, make the appointment time as compatible with your schedule as possible, and explain to you exactly what to bring and expect. No surprises necessary! It's the kind of care we offer our very own family members.
New Patient Forms
One of the ways we make your first appointment more convenient is making filling out forms easier than ever. Just download these forms at home, fill them out right there where all your information is at hand, and bring them with you. No clipboard, no hand cramps, and no rushing.
First Visit Experience
Your first visit with us is one of your most important ones. For kids, it is an opportunity to get to know and understand the surroundings, make friends with their smile team, and get comfortable with the idea of regular dentistry. Kids love coming to see us once they see how much we care about them!
Adults love us too, especially when they realize they can take a breather with a cup of coffee or tea before their appointment. You'll also appreciate our thorough initial exam which includes everything from checking your oral tissues and teeth (of course) all the way to making sure you aren't suffering from TMJ disorder or sleep apnea. Many patients tell us it is the most comprehensive exam they've ever had…and that's important because it is the baseline against which we compare your lifetime of exams and checkups and it lets us get a clear understanding of where your oral health is now, and where it ought to be for ideal well-being and comfort.
If you are coming to see us for the first time because of an emergency, we will probably schedule your comprehensive exam for another visit. We want to get you fixed up and feeling great as fast as possible, after all.
Amenities/Comforts
Our atmosphere here at Meyer Family Dentistry is relaxed and homey. We really do have fun with our patients and laughter is always part of our day. But we do more to make you smile than offer a friendly atmosphere. We pamper you with little extras too, extras like cozy neck pillows to reduce strain, bottled water to keep your whistle wet, balm to soothe your lips before and after every visit, and coffee or tea so you can take a break from life's hectic pace and relax. If there is something you need or feel would make your visit more comfortable, please let us know. We care about your happiness!
Payment Options / Insurances
We don't believe that high-quality dental care should be out of reach. We accept insurance from Delta, MetLife, and Blue Cross Blue Shield, but if you are not insured by either of those companies, don't worry! We accept assignment of benefit from any insurance company. That means that we will submit your insurance claim for you, to maximize your benefits, and simply send you a bill for any portion not covered. We also offer an in-house dental plan to help make any of our dentistry more affordable. Ask us about it today!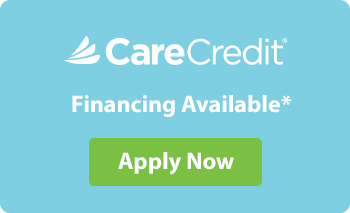 We are happy to now also be able to offer interest free financing through CareCredit. For more information, or to apply online, click the CareCredit button.